Oklahoma Weather Feeds
Here are the latest Facebook updates from meteorologist and storm chasers in Oklahoma.  Feel free to compare the various forecast by the different experts as well as get side by side video coverage during the severe weather.
Live videos will be here when meteorologist and storm chasers are broadcasting
Facebook
If that doesn't make you feel connected, I'm not sure what will. ... See MoreSee Less
I know, we have been having some beautiful sunsets! I took this wednesday.
If not for the rain this morning, this reflection would be non-existent 😉
My nephew took a simular one..... This evening.
Load Posts Here
TWITTER
Temp: 56.8°F DP: 55.4°F High today: 56.8°F @ 00:00 Low today: 56.8°F @ 00:00 Wind: SSE @ 1 mph Baro: 30.155 inHg and Rising slowly Rain Today 0.00in #okwx
⚠️ Weather Alert
Dense Fog Advisory until 7am Saturday morning for
Washington - Nowata - Craig - Ottawa - Pawnee - Tulsa - Rogers - Mayes - Delaware - Creek - Okfuskee - Okmulgee -
Wagoner - Cherokee - Adair & Muskogee county #okwx
NEW: 11:32 PM Dense Fog Advisory issued for parts of E OK until 07:00 AM Sat. More on App: #okwx
Here's a look at your FOX23 Five Day Forecast for Green Country and Tulsa #okwx
Twitter feed video.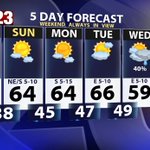 Your updated 7 Day Forecast. #okwx
Twitter feed video.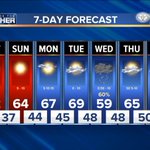 Load More...